BIG CATCH-UP TIME
Posted on
Lots to catch up on. Have been on a bit of a ceramic bender in the last months so had no time or inclination to write anything but as it's bucketing rain outside and I cannot plant out my courgette, squash and bean plants and built anti-puppy protection over them as planned, I now have time to catch up with this. It's either blog or hoover so here I am. I must continue to live with the dog hair and gnashed up toys on the floor.
The Ceramic bender consisted of 3 weekends of events on the trot. !st was the Stamford Pottery Market which I organise. It was it's 3rd year and it took place on Sunday and Bank Holiday Monday, 5th & 6th May, in Stamford Art Centre's magnificent Georgian Ballroom. I feel an enormous responsibility for the whole thing and especially worry about visitor numbers. It seemed to me that we had a greater footfall this year than for the previous 2 years, but this consisted of busy mornings and then very quiet afternoons. It was a really beautifully sunny and warm weekend and I cannot blame people for staying in their gardens or heading for the seaside. I'd have done the same in their place. But I think there were more people and Pam Orme did a brilliant job of getting publicity in all the local papers and mags. We've always had it on the same bank holiday weekend so people are beginning to look out for it and expect it then,so that helps too. And the Arts Centre is brilliant. We don't have to charge an entry fee so people can just wander in and out if it takes their fancy.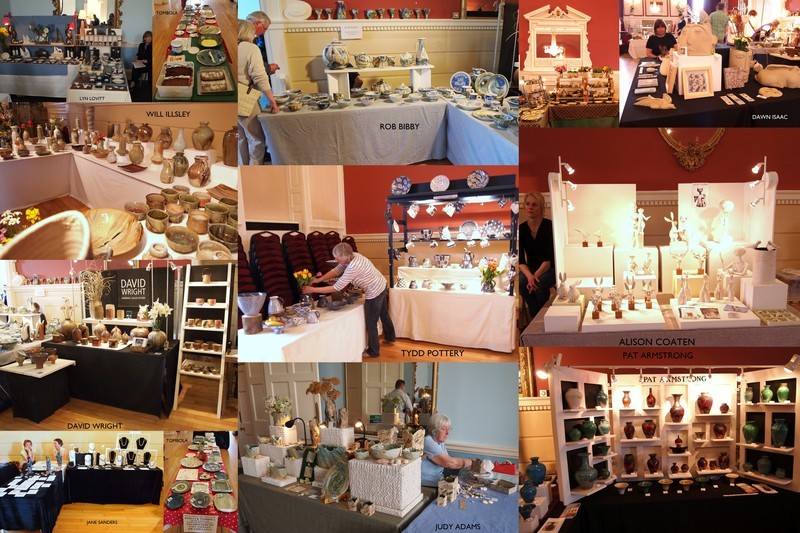 Each stall holder donated a plate/vessel as part of their stall fee and we had a 'Have your cake and eat it potluck tombola'. Tickets were £10 but every one was a winner and you got a piece of cake with you newly won pot. We raised £300 for the Air Ambulance.
Our main competitors for the public's attention during that weekend were the Uffington Scarecrow festival - very popular in the good weather - and TruckFest at Peterborough Showground. Apparently cars were queuing down the A1 for that. For months prior to it I looked on with envy at their dayglow green posters hammered into the verges on all major roads and junctions. How could we compete with massive throbbing engines and Sally Traffic and the cast of Corrie on speed dial? I think we did very well, all things considered.
The following weekend found me down at Blackthorpe Barns, nr Bury St Edmunds, Suffolk for 'Firedworks; ceramic,glass and metal'. This was the 2nd year this show has taken place and unfortunately the public have yet to find it or decide they want to come. I know the organisers worked really hard to publicise the event; got into all the local publictions and mailshot Bury, but somehow the public resisted the irresitible lure of a specialised market. Fortunately I enjoyed the company of my fellow potters over the weekend and I did not have to redo my pot boxes after the stamford market.
The last ceramic event of my pottery bender took place on Sunday 19th and involved Anglian Potters, their AGM and my Demonstration. Was asked to do it before Christmas so had 1/2 a year to worry about it and plan it out. Why, therefore did I only finished sorting out my images at 11.45 pm on Saturday 18th? Why indeed? Fortunately I have quite an interesting story to tell about my journey to self employment and most of them had no idea about it so that went down quite well. I think the demo went okay too. Decided to concentrate on useful tips so did a bit of throwing to show the French technique I use, turning on sponge, feet & handle application, slip trailing on a plate and jug, and printing on a tile (stamp and mono). The AGM had been quite long so my time was cut a bit short, but as my big worry had been not being able to fill the time, I was please to have enough to show to make it to 4pm.
After the bender comes the hangover. This has manifested itself total avoidance of the workshop and a spot of 'gardening leave'. Potfest Scotland and Earth and Fire at Rufford are looming on the horizon followed by Art in Action and Potfest in the Park so I must put down my trowel and put hands to the wheel again.
MISCELLANEOUS SOUNDBITES AND VISUAL DELIGHTS
The swifts are back in the village. The sound of summer.
Went to the National Theatre Live performance of 'This House'. Blew me away. Really tremendous. About the Labour and Tory Whips offices 1974-1979 during the hung Labour Government. Written by someone born in 1982! I only have vague memories of this time. The name Stonehouse, rubbish in the streets, powercuts and having to know where your torches and candles were, Jeremy Thorpe with moles on his back - no idea what that was about -, the Lib/Lab alliance. After the show performance I felt like I do after a very good book, that I will really miss the characters' company and wish I could have spent more time with them.
Am filling in a survey form about my radio listening just for this week. Very untypical week for me as a radio addict as I'm not in the workshop. The radio addict's equivalent of hiding bottles in the lavatory cystern perhaps.