HAPPY NEW YEAR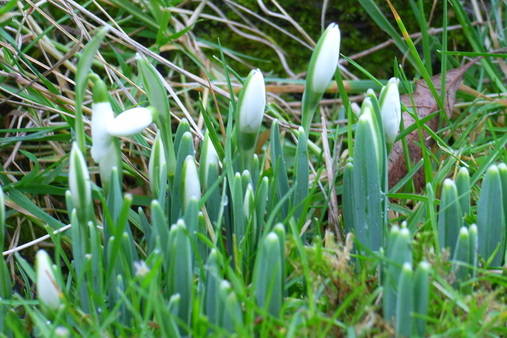 Looking back on last year's blog entries I see I didn't even managed a monthly missive. Have thought of making a new year's resolution to that effect but know that I would fall at the first hurdle so will just continue in a sporadic fashion, try not to get too wracked with guilt and see what happens.
Have just started back in the workshop but am being a bit half hearted about it. Must really pull myself together and stop dawdling as I've got into all the shows I applied for and the summer is looking pretty packed (see CALENDAR). I also have a very interesting and terrifying commission for a couple of local churches which I'd like to do this Jan/Feb, and have just been reminded of an exhibition in Cambridge in March, about which I'd completely forgotten. Must fire up that wood burning stove and set to.
Have just taken delivery of a load of wood today and have stashed it away in my shed. Had considered just throwing it in but went for neatly stacking instead. There is great security and joy in having a substantial woodpile. I now want to take visitors to see it. No irony or Cold Comfort Farm inuendo intended. There is an expectant stillness in the air tonight. Snow is forecast for early tomorrow morning. But I've got a beautiful woodpile and some new longjohns from Lidl.
I started some new work at the end of last year for the Stamford exhibition and am hoping to build on those ideas. Am not quite sure how they will evolve but it's good to have a starting point and a feeling of excitement about trying something new. They involved monoprinting and using my lenten drawings.



MISCELLANEOUS SOUNDBITES AND VISUAL DELIGHTS
Bill Nighy in Educating Rita on Radio 4 was fantastic and the play was stunning. Such sharpe, witting writing, really enhanced by not having the clutter of visual distraction. I really enjoyed the Martin Beck series. Neil Pearson is joining my list of favourite radio voices. Will look out for the repeats on 4xtra. Likewise with 'Rita'. It was a joy to wake up to the test matches in India. Am hoping the one-dayers will make the workshop a more appealing place to be. Was quite relieved that Michael Vaughan was stuck dancing in the UK. Geoffrey Boycott is quite enough.
Heard 2 people I know on RadMac's 'Chain' on 6 music. Potter Matthew Blakely and basketmaker Sue Kirk. Is Matthew 'Matt the Potter' in the Roundtable chatroom? Also listened to Desert Island Discs with Edmund de Waal on it. Got quite insensed with Kirsty as her research was clearly lacking. She treated him like some rare, exotic creature and clearly has no idea that there is a large, healthy, lively, intelligent and diverse potting community out there. I've always rather liked her as I could not bear Sue Lawley, but I find myself writing her imaginary letters on my dog walks and would now like to see her interview Mary Wondrausch.
Right, enough of all this. Happy New Year. All power to your resolutions and may all puppies become quickly house trained.