Monthly missive
Posted on
Have decided to try and update this monthly from now on. Had at first thought I would manage a weekly or fortnightly contribution but until I can transfer mental compositions directly from a dog walk to the computer this is just not going to happen. So, henceforth, a Monthly Missive.
POT NEWS (said with echoing reverb)
Since my last entry I've done a Potfest show, had open studios, taken part in Art @ Sudborough, set up an exhibition an Corby Glen, had a busman's holiday to Rufford and made a few pots.
Potfest Scotland was the first weekend of June so I missed most of my village's rain-blighted Jubilee celebrations but had a lovely time in the company of my fellow potters. Scone Palace is a great venue and makes other shows seem a bit of let down as none of the other ones I do have peacocks swanking around and calling out. My standed backed on to or was next to those of Gwen Bainbridge, David Panting and John Scott, whose company and conversation I very much enjoyed over the weekend. Sales were quite good. Logie Gallery collected their large order (some pots were wrapped hot from the kiln on the Thursday morning). I visited the ospey at Loch of Lowes. Ate some tasty meals in good company. Stayed with friends in Newcastle on the way back south and got home in time for the village fireworks and lighting of the Jubilee beacon.
Once home I had to demouse the garage and set up my Open Studio display for the following weekend. The little blighters had really partied through the winter in there and the hoover overheated and packed up for some hours in protest. They had ravished my stored apples and one even stripped my chilly plant of its leaves and chillies. I can only hope that its bottom exploded. Anyway, I managed to set up my display but felt rather despondent about it as I'd forgotten to advertise it in the Parish magazine and feared nobody would come. Normally I only have villagers visit me as I'm out on a limb, on the edge of the area. To my amazement I had some visitors, all who found me through the open studios' brochure. A very fortuitous turn of events as hardly any villages came!
Another quick turn around as on the following Tuesday it was up to Corby Glen to set up the exhibition there.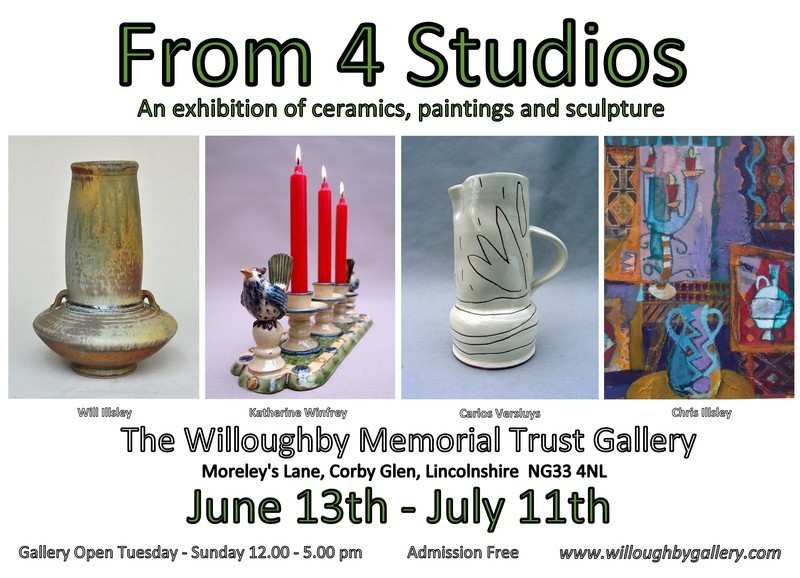 We had the Private view on Saturday 16th and once again I was wrapping pots hot from the kiln and driving them north to be displayed.
It's such a lovely gallery and a real pleasure to show there. I have great affection for the place as I had my one and only sole exhibition there some years ago. The gallery and garden are maintained by a lovely couple, Helen and David Porter, who also man the exhibitions and sell the work. A hidden gem of Lincolnshire.
I did a day trip up to Rufford for Earth and Fire. Collected some materials from Potclays and chatted to friends. Have never moved so slowly around a show as there were so many friends to chat to. Was there most of the day and still didn't get to see everyone. At first it was stange to be there without a stand but then I really enjoyed having the time to chat to people without worrying that I might be missing sales at my stall. It was my friend Janet Creed's first time there and here is her stand.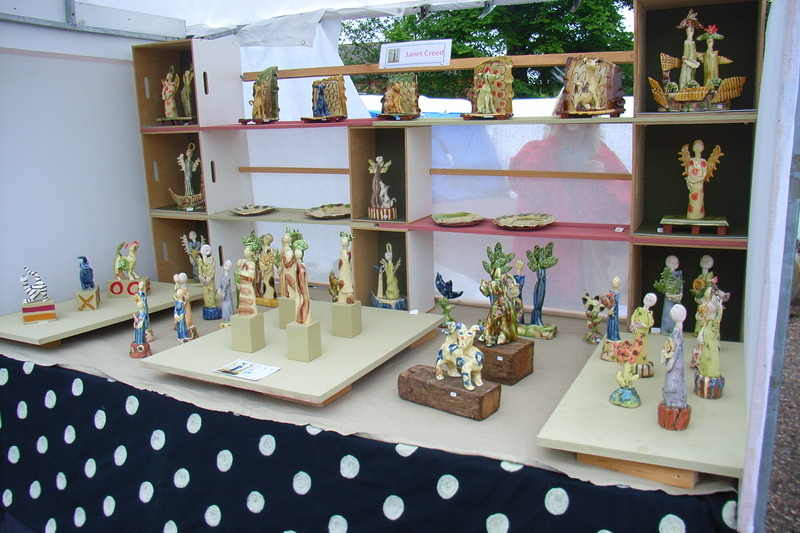 She is hiding behind it.
That's about it for the potting news other than that I am now working flat out to get enough stock together for Art in Action and Potfest in the Park. It's going to be skin of teeth action again and no doubt more hot pots, fresh out the kiln, will be travelling up the A1.
MISCELLANEOUS SOUNDBITES AND VISUAL DELIGHTS
Had wanted to write here of squealing swifts and Viv Richards' chuckle being the sound of summer. Of Test Match Special and the pleasure of hearing the affection between Henry Blofeld and Viv Richards. Of getting enthralled by 'I, Claudious' and 'Fortunes of War' on 4extra. Of laughing for a week about Mark Kermode's comment of how the Abba tunes survived 'being moo-ed to death by Pierce Brosnan'. Of swathes of rock roses in the Hills and Holes and masses of pyramidal orchids up the roadside verge. Of being caught up in 2 swarms of bees - what a noise they make. Of the van towing a trailer which was actually the back end of another old van, so a van and a half. Of the wren that needed freeing from a tiny noose of a grass stem and cobwebs. Of tennis on the radio - I'm hooked on 5live. But it's time for bed and there are plenty of pots to decorate tomorrow. So TFN.
Tune in at the end of July for the next exciting episode.
POTTERS' TIPS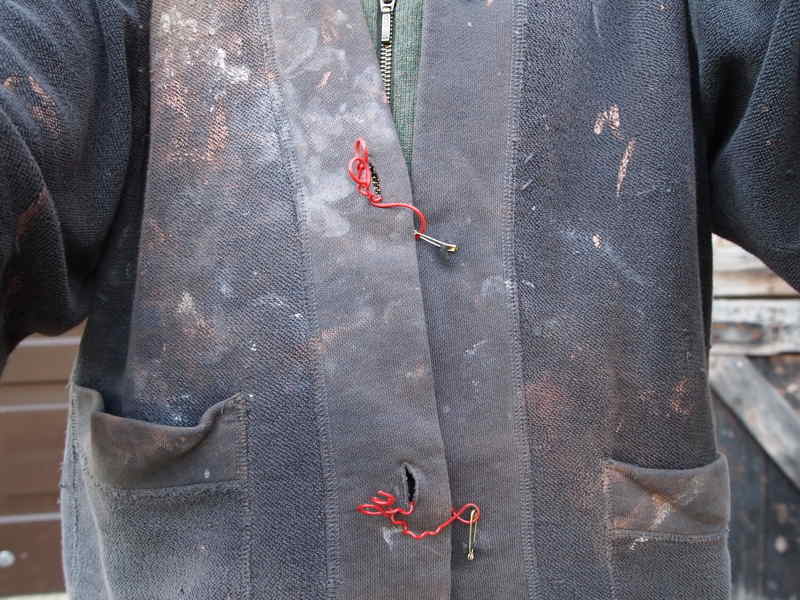 If the buttons fall off your overall, safety pins and clay bag ties makes a fair substitute