Stamford Pottery Market
Posted on
Have finally managed to get my act together and design the poster/flyer for the Stamford Pottery Market. It had been resting on my guilty conscience for a while and was starting to really worry me so the only solution was to sit down at the computer and crack on with it. I took the design to the printers (BJ's in Stamford) on Thursday, so hopefully they will be printed up next week or at the beginning of the following week and I can get them out to the potters. The printers are brilliant. I take them a scrappy mock-up done with my rudimentary computing skills - manual cut and paste would often be a quicker solution - and they sort it out with their whizzy AppleMac programs and produce a professional result. I do actually enjoy designing it all. I just wish I new how to use the computer better. Pam is on the case with the publicity and there was a piece in this week's Stamford Mercury. Once I've got the poster I will scan it in and create a page on this website with a gallery of all the exhibiting potters. Another job to do!
What with my lenten tasks of practicing a tune every day and drawing a sketch every day, then everyday life such as getting on with work, walking the dog, eating and all other the domestic chores, there are just not enough hours in the day, hence my neglect of this blog which I intended to update weekly when I started out but is turning into a fortnightly occurence. The garden is starting to burden my conscience too. It's seed planting time and I'm always a week or 2 behind. My seed potatoes arrived this week. The only solution is frantic list writing - to wrangle everything into a managable, less scarey state.
Workshop update.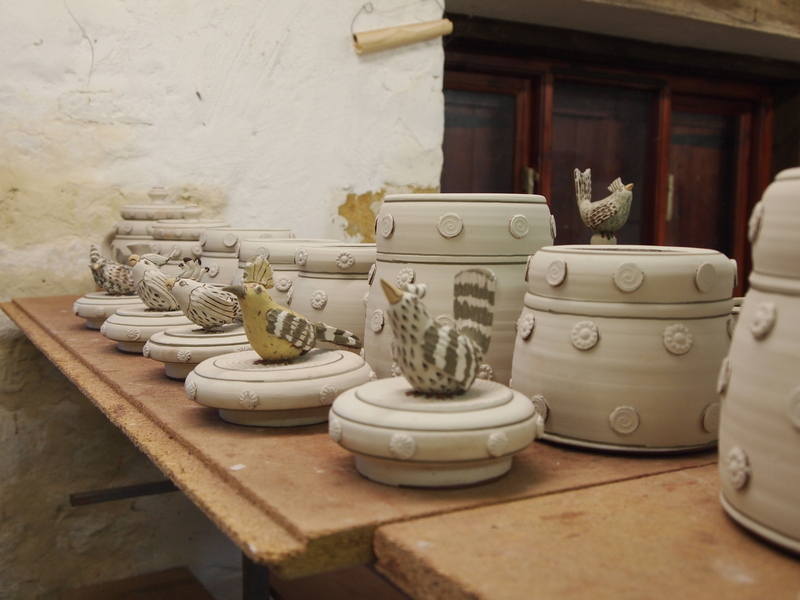 Have at last finished decorating and constructing this batch of pots and fired a bisque kiln. It's cooling now and I hope to unpack, repack and fire again this evening. All being well, will spend Monday glazing pots and get a glaze firing on asap.
Need to send work off to Scotland this week for the teapot/teacup expo at Larks Gallery and get work through to go to Cambridge the following week for the CCA East Anglian Potters Selected Members' expo.
Must then seriously get my skates on, stop mucking around and crack on with a big order I've got for a gallery, plus restocking for Stamford, Fireworks at Blackthorpe Barns and Scotland Potfest, and a stop avoiding some private commissions. Am clinging to my lists like a lifeline.